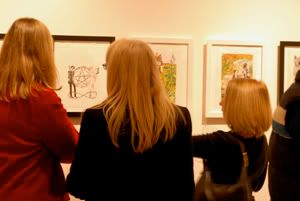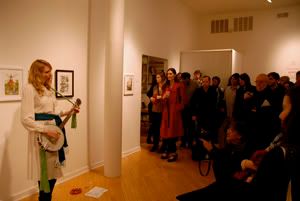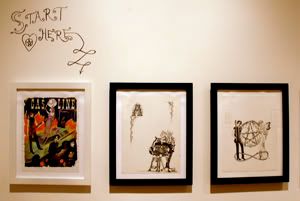 *Current Events*
at THE FEZ BALLROOM
316 SW 11th Feb. 1st, 2009 Portland OR
http://www.fezballroom.com
9:00 pm 21+ $7. door
A simple text version of the announcement is below. See also
http://tinyurl.com/9okxpq
for one with photos, video, etc.
The whole show is shaping up to have a sort of vintage orphan music sound.
Dame Darcy
The Stolen Sweets
The Underscore Orkestra
Critical Theatre
More info about these bands included at the end of this blog...Thanks Noah!
*Love Letters/Current affairs*

All photos by Erin Lingle , thanks Erin!

Hey! The show at The Civilian Art Projects went smashingly well, Carol's work was beautiful and I loved all the DC characters that showed up.We had a super fun party at her restaurant afterwards, and a lot of my pieces sold. I loved DC and I stared at my Obama inauguration metrocard for the longest time, because it gives me hope and made me so happy to visit a giant pentagram with the black magic of ages being cleansed by the new awesome way that is coming for us all. The beautiful intricate doll castles and roman colosseum, and all the erodite population particularly how the guys there dress like business vampires and are from everywhere. DC has it's secrets, everyone can tell, but Portland has it's faeiry secrets, hiding in little hollows and coves just on the other side of the mundane everyday world.

The fertile overabundance greenery taking over all other life forms and the constant rich smell of wet, dark, earth, it makes me feel like I'm left out of the greatest party ever and I really want to go. I will miss the fancy events in DC, here in Portland, and who will go to the faeiry inauguration with me?

The show is still up in DC if anyone nearby wants to check it out. I am honored to have been invited by Carol and Jayme , thanks ladies!

Civilian Art Projects
406 7th Street NW, Third Floor
Washington, DC 20004
202-347-0022

GASOLINE PRINTS AND STATIONARY FOR GIFTS! DD VINTAGE & COUTRE & ART! D

* Art/Fashion Auction*
GASOLINE PRINTS COLOR AND BLACK AND WHITE. Also, FAIRY STATIONARY SETS!
As seen only here only on
www.damedarcy.com
hand signed prints done by Fiona on a 100 year old letterpress, fine quality paper
BATS Black and white prints for $20
MERMAID color $40
FAEIRY stationary sets are $15.
Nico at Obscure Gallery is selling the LA fine art from the Gasoline book release, the shows went well and this one of a kind fine art is going fast. You can see the art and contact him at this link, again, a good idea for christmas and the art lover in your life.
clairobscurgallery.com
--
DAME DARCY
http://www.damedarcy.com
THE STOLEN SWEETS
http://www.stolensweets.com

THE UNDERSCORE ORKESTRA
http://www.myspace.com/underscoreorkestra
and CRITICAL THEATRE
http://www.myspace.com/criticaltheatre

DAME DARCY
(from Wikipedia.com)
"In 1989, Darcy won a scholarship to the San Francisco Art Institute,
where she majored in film and animation, studying with, among others,
George Kuchar and Kathy Acker. During this time, Darcy began
self-publishing Meat Cake. While in San Francisco, Darcy formed her
first band, Caroliner Rainbow, and produced her first independent solo
music releases.
In 1992 Dame Darcy moved to New York City, where she worked as
a freelance illustrator and cartoonist. In 2001, she moved to Los
Angeles.
She has exhibited her fine art in both solo and group shows, in the
U.S., Austria, and Tokyo.
Dame Darcy is now bi-coastal, calling both New York and Los Angeles
home. (In fact, she has just moved to Portland. - ed.)
Darcy has provided illustrations for writers Alan Moore, Poppy Z.
Brite, Trina Robbins; and fashion designers Anna Sui, Jared Gold, CWC,
and Coi Girl Magic, among others.
She is also a musician and performer of unique and experimental
combinations of bluegrass music, Americana, classic Expressionism and
transgressive aesthetics. Her collaborations with Caroliner Rainbow,
Lisa Crystal Carver's Suckdog, Rock Rock Chicken Pox and heavy metal
author Ian Christe in Grouse Mountain Skyride have inspired members of
the avant-garde such as Thurston Moore. Darcy sings, and plays banjo,
electric bass, and singing saw."
THE STOLEN SWEETS
The Stolen Sweets formed in 2004 with the intention of reviving
the songs of 1930s sister act, The Boswell Sisters. Comprised of
vocalists Jen Bernard, Lara Michell and Erin Sutherland, guitarists
Pete Krebsand, David Langenes (both of whom sing) and double bass
player Keith Brush, The Sweets' repertoire has expanded to include
material from the1920s -1940s. Their arrangements are still inspired
by the Boswells' tight 3-part harmonies, frequent tempo changes and
"knowing shrugs and raised eyebrows," as noted by the Oregonian's A&E.
Unlike the original Boswell arrangements that featured piano,
clarinet,and horns, the Sweets incorporate gypsy jazz
accompaniment,reminiscent of Django Reinhardt.
The Sweets stay busy playing club gigs, private events and
festivals all over the northwest and beyond. They strive to keep these
vintage tunes alive, transporting a wide array of listeners to the
early days of jazz.
THE UNDERSCORE ORKESTRA
The Underscore Orkestra is a Portland OR based band, playing a blend
of Balkan, Klezmer, Gypsy Jazz and Swing, with a repertoire consisting
ofboth original and traditional material from fast bulgars and
melodious waltzes to odd meters and swinging rhythms. Our
instrumentation includes violin, accordion, guitar, banjo, clarinet,
horns, flute,harmonica, bass, vocals and percussion. Each of the
members comes from various backgrounds and musical disciplines from as
far away as Russiaand as close as our own North West. The Underscore
Orkestra has been performing for the past 3 + years, touring all around
the western U.S.,Mexico and Guatemala and has been seen from intimate
coffee shop setting all the way to huge outdoor festivals.
CRITICAL THEATER
Started in February 2000 as vehicle for music, performance and
neoteric ritual. by Maxwell Benedetti. A few rotating members over the
years. We strive to be music/art/ritual as life, we strive to put
spirit in thisprimal music we make and we hope that it may serve in
the helps of;connection, meditation, dance, exorcisms, ritual, healing, catharsis, catalyst
and enjoyment. We strive to experiment and explore many types of
instruments and equipment. We strive to give reverence to a pantheon of
different musical Gods who haunt the primitive world, the suburbs, the
ghettos and (and yet!) untouched forests. We strive to explore the
music of inner/outer space. We strive to use music to help access,
acknowledgeand identify hidden "parts" of the subconscious and giving
them voicesand expression, for these "parts" are our insane inner
children. We strive to be urban shamen, post apocalyptic witches...etc.
You get the idea?