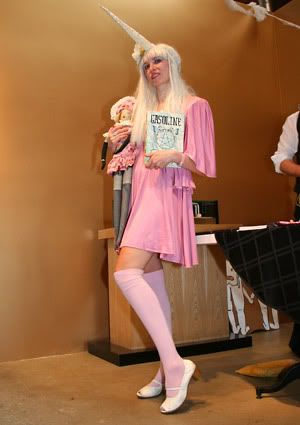 Bonjour it's Isabelle! I'm taking over Dame Darcy's blog to say I had the most dollerious time at the Gasoline book release/ gothic lolita tea party at the Royal Tea maid Cafe in LA! OMG check it out! I got my photo in the LA Times, and I got a three layer doll cake and all my friends and doll friends were there, it was more magical than a unicorn!
http://www.latimes.com/theguide/events-and-festivals/la-gd-2008oct28-lolita-pg,0,791285.photogallery

To order the Gasoline Graphic novel or to see updates and future events for Gasoline please visit: www.damedarcy.com/gasoline.
Next I'm going to San Francisco with Dame Darcy to do more Gasoline book signings at the Fantagraphics Table showcasing the newest Meat Cake Comix.
Check it out Bay Area <3 Dame Darcy always say's she left her heart in San Francisco :)
Here's the San Francisco events plus an important message from DD's fine art representative the Sloan Fine Art gallery in NYC where original Gasoline illustrations will soon be on display at the opening on November Weds the 19th.
Doll love from your friend
<3 Isabelle <3
November 1st 4:00- 5:00
November 2nd 2:00- 4:00
ALTERNATIVE PRESS EXPO
San Francisco, CA
Gasoline Graphic Novel Featured
Book signing by DD as well as MeatCake#17
Fantagraphics Booth
The Concourse
620 7th Street
San Francisco, CA
Sunday Nov. 2nd 7-11 pm
ISOTOPE PARTY
326 Fell St.
San Fransisco, CA 94102
Gothic banjo pickin' jamboree!
Dame Darcy and friends at 9:00
Gasoline book signed by DD
ART EVENTS/AUCTIONS
In celebration of the release of "Gasoline," and the upcoming exhibition of original artwork from "Gasoline," Sloan Fine Art is making two incredible offers to loyal Dame Darcy fans.
Personalized Copies:
Order your copy of "Gasoline" through Sloan Fine Art between now and November 18th and Dame Darcy will personalize it with a drawing and her autograph at no additional charge. Shipping is also available. So wherever you are, don't miss this chance to get your own special copy of "Gasoline" personalized just for you by Dame Darcy. Contact Tiffanie at tiffanie@sloanfineart.com or 212.477.1140 to place your order.
Original Artwork:
Also between now and November 18th, offers are being considered to purchase ALL of the original artwork from "Gasoline." The entire set of drawings includes over 100 color and black and white illustrations. Any reasonable offer will be entertained. This is a once in a lifetime opportunity to own the entire book as a collector's item or select your favorite pieces for yourself and then sell or give away illustrations as gifts. Contact Alix at alix@sloanfineart.com or 212.477.1140 to make your offer.
Alix Sloan
Sloan Fine Art
128 Rivington Street
(corner of Norfolk)
New York, NY 10002
212.477.1140
sloanfineart.com